The seminar
The breakfast seminar on health data is the first seminar that we organize during the spring in connection to the Swedish presidency in the European Council. The regulation of the European Commission's proposal on a European Health Data Space (EHDS) , has been communicated as one of the prioritized issues to be addressed in the field of health and medical care by the Swedish presidency. Stockholm Region, as one of Europe's strongest life science areas, has via the Centre for Health Data in Stockholm thorough experience in health data sharing, including both potential benefits and challenges. However, sharing health data requires regulation and the development of a common European regulation framework affects not only on a European level but also on a national and regional level.
The seminar was hosted in collaboration with EIT Health Scandinavia, a knowledge and innovation community of the European Institute of Innovation and Technology (EIT) and aims to build an ecosystem where fresh thinking in healthcare can thrive. EIT Health is joining together a community of innovators dedicated to improving the lives of people and patients.
Presentation
Dr Clara Hellner, Director for Research and Innovation at Stockholm Region, presented how Stockholm's Center for Health Data can operate in an ethical, juridical, and secure way, as well as enlightened the risks and advantages of cross border health data sharing. Established in 2019, Stockholm's Center for Health Data works as a single point of contact, has a uniform confidentiality review process, and provides a hub for researchers who require access to health data. Nonetheless an effective system has challenges, which according to Hellner, includes the need for a legal framework, understanding of the data landscape and highly competent staff who have devoted time to engage in data retrieval for secondary use.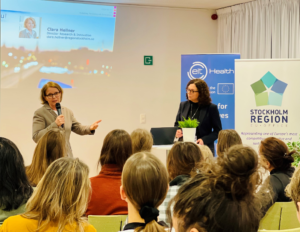 Regarding the EHDS, the central question raised was to what extent and how the system will influence the ecosystem for health data in relation to research and innovation affected by the proposal. Hellner continued by emphasizing that the proposal is much needed. However it must take into consideration the varying conditions in the member states, to address the costs and benefits for different stakeholders and different member states. Systems can vary significantly, at both state and regional levels, complicating agreements on common standards. To benefit from enabling data sharing across member states, Hellner underlined several important aspects including the need for realistic timeframes, big investments in infrastructure and staff. Hellner also stressed improved understanding of data quality and the inclusion of the regional level in a joint process for the implementation.
More specifically, concerning the secondary use of data, Hellner pointed out that research ecosystem needs safeguarding and a fair "data market". The possibility to publish scientifically prior to sharing data needs to be protected and forcing researchers to use technical solutions that do not meet the highest standards are to be avoided. According to Hellner, these questions and aspects need to be raised and are vital for an effective, secure, and juridical implementation of cross-border sharing of health data through a common European regulation framework.
"Quality in data driven work is key, regardless of whether it is based on research or data driven products. Securing knowledge of data quality in the implementation of EHDS is a joint responsibility." – Clara Hellner, Director for Research and Innovation at Stockholm Region
Discussion
The Q&A that followed was moderated by Dr Monica Åberg Yngwe, Public Affairs and Stakeholder Relations Lead at EIT Health Scandinavia. The challenges of the secondary use of data, learnings from Stockholm's Center for Health Data and implementation of EHDS were at the focal point. When asked about what is needed for a data access body to be functional, Hellner stressed close long-term collaboration, technical solutions of high quality, an ethical perspective, and tools as well as financial support. In addition, Hellner raised the vital aspect of a unified clear view on the labor division in the system. The discussion also touched upon the benefits of sharing health data and what can be learned from the good practices from Stockholm's Center for Health Data so far. Some examples of health data sharing benefits were highlighted by Hellner, for example in areas such as infectious diseases, sepsis, and breast cancer.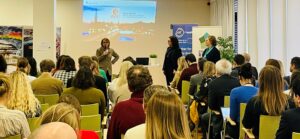 The Q&A continued by discussing the technical compatibleness of EHDS with national and regional systems and what the role of regions would be when the EHDS gets implemented. Hellner emphasized the importance of including the regional level as a complement to the national and European level, as well as solid legislation and a central access point. However, such a system and technical solution is not operating yet and requires reimbursements together with training of competent staff. To conclude Hellner raised a few main points as follows: cost responsibility needs to be discussed and data extraction from a data holder level is possible, but complicated, which requires resources and competence.
Read more
Please find the presentation here.
Please find more information in our article about the European Health Data Space here.
Other breakfast seminars
Breakfast seminar on Impact Investment – 25th of april 2023
/Rebecca Timm, Strategic Communicator and Jacqueline Claesson, Trainee at Stockholm Region EU Office