Stockholm Region EU Office, together with Stockholm Business Region, welcomes you to a breakfast seminar on the strategy of Impact Investment, with Mr. Erik Krüger, Head of Investment and Establishments at Invest Stockholm. The breakfast seminar will focus on how to invest in a sustainable future, which for example can be done by focusing on startups using sustainable technology. The seminar aims to share best practices in the city and region of Stockholm and discuss challenges, regarding impact investment. As one of EU's climate neutral and smart cities, Stockholm strives to lead by example when it comes the green and digital transition and to fulfil the city's sustainable development goals. 
About the seminar
Stockholm has one of the world's most innovative startup ecosystems and it has been experiencing an increase in investors that want to invest sustainably. This means investing with consideration to the environment and human well-being, as well as the economy. Stockholm has a high ambition to become one of the world's leading cities for social impact investments and startups driven by sustainability and innovation. The city aims to become a home for impact unicorns, investment, and startups.
Stockholm Business Region is a company, owned by the city of Stockholm and a part of the corporation Stockholm's Cityhall. The company has two subsidiaries, one being Invest Stockholm, which is the official investment promotion agency of the city and responsible for promoting and developing Stockholm as a business destination.
Agenda
09.00     Doors open: coffee/tea/juice and croissants are served
09.15     Welcome note by Ms Anne Andersson, CEO at Stockholm Region EU Office
09.20     Guest speaker: Mr Erik Krüger, Head of Investment and Establishments at Invest Stockholm.
09.40     Q&A, moderator Ms Anna Tranberg, EU Policy Officer at Stockholm Region EU Office
09.55     Closing remarks by moderator
Where
Stockholm Region EU Office, Avenue Marnix 28, 1000 Brussels
Registration
Please register here or via the QR-code below.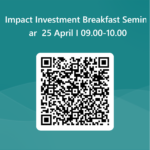 Contact
For any questions, please contact rebecca.timm@stockholmregion.org